Traxx Rite Belts
 Traxx Rite Sprockets provide Positive Drives for your  belts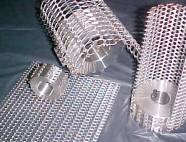 Belt Specification                   Approximate Opening            Diameter        Bore Size * Others available
PB 18-16-16                                   .468 x .687                              3.000 OD          1.00″
PB 30-24-17                                  .346 x .446                              3.997 OD           1.75″
PB 30-31-16                                  .337 x .324                              1.55   OD             0.75″
PB 42-36-18                                  .239 x .286                              2.27   OD             1.00″
PB 48-52-17                                  .196 x .177                              3.00   OD            1.00″
PB 60-48-18/20                          .165 x .203                              2.00   OD            1.00″
Belt Specification       Minimum Nose Bar Dia.       % Open Area             Applications
PB 18-16-16                                1.433                                         82.9                 Cooling
PB 30-24-17                               0.955                                        77.2
PB 30-31-16                                0.740                                       70.5                 DB-4 Stein Breader
PB 42-36-18                                0.637                                       71.8
PB 48-52-17                                0.441                                        60.1                 Stein
PB 60-48-18/20                         0.478                                      67.0
View The complete Mesh-Sprocket Chart
Wiremation Industries now supplies sprockets to drive mesh belts.
Sprocket driven belts provide positive tracking for many applications. These include wide belts on short conveyors, dirty/dusty environments, elevated temperatures and where tight transfers are needed. We can eliminate belt mis-tracking and prevent damaged edges. This translates into fewer repairs, more uptime and less belting costs.
Call today for a sample or to set up a no obligation appointment to see if this system of belt and sprockets will solve a problem you may be having.